The Seiner Story
The Seiner Story- The History of Our Buick GMC Dealership!
"Making Friends to Last a Lifetime" is Jerry Seiner's motto and the driving force behind his personal and business success. And like all great success stories, it all started with a core aspiration - Jerry's goal was to build an automotive business focused on being successful by taking care of its customers, and its employees.

The Seiner Story began when Jerry was born in a suburb of Detroit in 1941. A true Motown kid, he grew up completely immersed in the auto industry. In fact, his father was Henry Ford's personal electrician.

Jerry began his business career in advertising for the Detroit News and the Wall Street Journal. That experience fueled his passion for the automotive industry. His next step to fulfilling his dream was, ironically, the purchase of a Chevrolet dealership in Cadillac, Michigan in 1975. In 1980, Chevrolet offered him an opportunity to buy a dealership way out West in Salt Lake City. And it was in Salt Lake where Jerry continued his dream. From a single Chevrolet dealership, the Seiner Dealerships have grown to ten franchises, including Chevy, Buick, GMC, Cadillac, Kia and Isuzu Truck in four locations. After 37 years in business in Utah, Jerry Seiner has become a household name. But more importantly, the Seiner Dealerships now proudly employ more than 350 people. Among many business accolades, Jerry served as a member of the General Motors' President's Council for 18 years and was named GM's "Dealer of the Year." In 2016, he was inducted into the New Car Dealers of Utah Hall of Fame.
Jerry's greatest satisfaction in business came from mentoring his employees and guiding them in their professional growth. In fact, many of the Seiner Dealerships key leaders have been here more than 30 years - another testament to Jerry's motto of "Making Friends to Last a Lifetime."
In 2012, the torch was passed to a new generation of leadership and service. Chris Hemmersmeier, Jerry's son-in-law, acquired majority ownership in the dealerships. Chris began his journey in the Seiner Dealerships in 1991, and along the way developed his own dream of providing a great customer experience in the automotive industry. Since then, under Chris's leadership, his team has continued to build the Seiner brand based on a dedication to customer service, employee growth and a strong commitment to the community.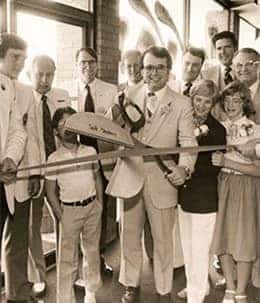 Looking ahead, the Seiner Dealerships will continue to evolve to better serve the Utah community. Our focus will continue to deliver an experience that provides individuals, families, and small businesses great access and service for vehicles that meet their needs. In an ever-changing world, we commit to be involved, whether that is installing solar panels on our buildings to help with the environment, or enhancing the availability of electric and hybrid vehicles. Everyone at the Jerry Seiner Dealerships is committed to providing world class vehicles and service to our customers in an environment that allows our employees to achieve their professional potential. This dedication to making friends to last a lifetime is truly "The Seiner Difference."

At Jerry Seiner Buick GMC, we vow to treat every Utah customers like they were our first. We want to deliver the best car buying experience too all of our customers because we believe in treating them like one of the family. The Seiner family and its employees want to make your experience world-class and will do anything possible to make that happen. We call this the "Seiner Difference!" Whether you're looking to purchase a new Buick or GMC car or used car truck or SUV our friendly sales staff is ready and willing to assist you. Stop by our dealership today and experience the "Seiner Difference" for yourself!

Our Buick GMC dealership in North Salt Lake offers all customers new GMC and Buick models, reliable used cars, trucks and SUVs, certified auto service and repairs, competitive financing and more. With every experience at our dealership, whether is the purchase of a new GMC Sierra 1500 or Buick Encore, we vow to bring with it the "Seiner Difference." Our certified service technicians carry this difference with them, as well, while bringing you the best auto service at the best price. Stop by and see all we have to offer our Utah customers today at Jerry Seiner Buick GMC North Salt Lake!