Best Used Buick SUVs For Holiday Travel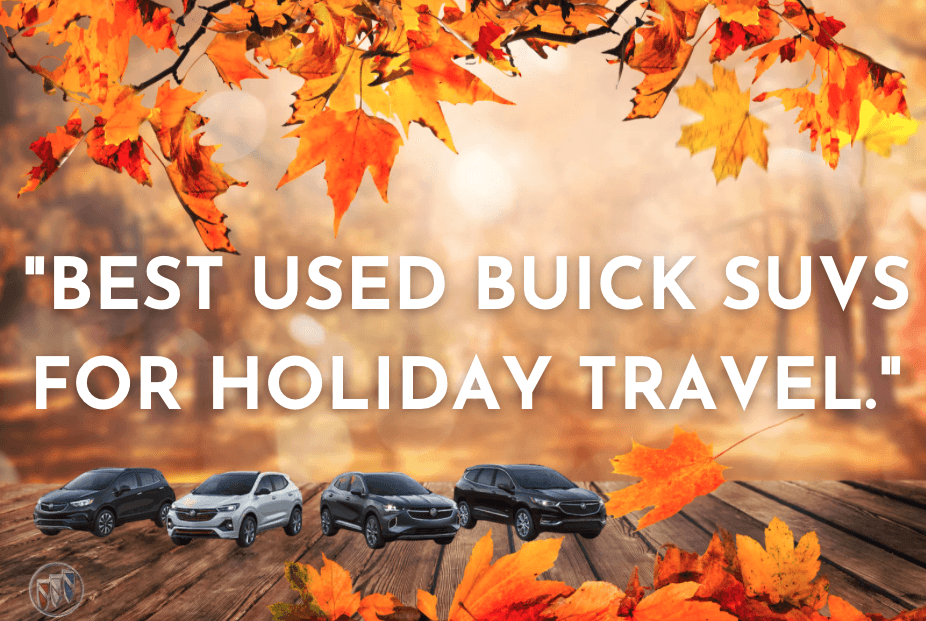 The holidays are right around the corner, and with pandemic lock downs and travel restrictions finally being lifted, it's the perfect season to visit your friends and family, wherever they may be! However, if you haven't driven much in the past year or so, your car might be due for an upgrade.
Buick SUVs are known for straddling that line between mass-market and luxury branding, and brand-new models can be out of the price range for some. However, if you buy a used Buick SUV this holiday season, you can get a great used SUV for much less than the price of a new one. Here are some of the best used Buick SUVs on the market today.
Used Buick Envision 
The Buick Envision is a compact crossover SUV that has been sold in the North American market starting in the 2016 model year. While it was totally redesigned for 2021, used Buick Envision models still have great features, including a 2.0L turbo engine standard with a 9-speed automatic transmission for 2019 and newer models, a stylish exterior, and comfortable seating for up to 5 passengers.
If you're looking for an upscale used crossover SUV for your family's trips or work commutes, the Buick Envision can be a reliable choice.
Used Buick Enclave
If you've got a lot of presents to bring to family this holiday season, the greater space in a used Buick Enclave is perfect for you. Its three rows of seating can comfortably fit up to seven passengers, or you can fold down the second or third rows for fitting baggage, gifts, and more. The 2014 Enclave is an especially good choice: it was listed in U.S. News and World Report as the best "Affordable Midsize SUV" that year.
Used Buick Encore
Recent model years of the Buick Encore have proven themselves to be great daily drivers for people on a budget. Consumer Reports included the 2017 facelift model of the Encore on its list of "Best Used Cars for Under $20,000" in the small SUV category, due to its quietness, ride quality, and maneuverability on the road. It's also known for its above-average reliability!
For a reliable used crossover with curb appeal, a Buick Encore is a great choice for you and yours. Of course, we also have new Buick Encores available in stock too!
Used Buick SUV for sale in South Jordan
Wherever you're headed for the holidays, or even if you're staying in the South Jordan, West Jordan, or Salt Lake areas, you can find a reliable, stylish Buick SUV at Seiner Buick GMC South Jordan. With our wide selection of used and new Buick SUVs, our friendly sales staff are confident we can find you your next car, and our finance department will help you secure it. Plus, our service department is always standing by when you need a tune-up or repair. Give us a call, stop by our dealership, or visit us online today!